Watching your kids improve every year is awesome- not having to purchase new equipment every year is even better!  Come to any one of our four Tahoe Dave's locations and get your kids set up for the entire season for one low price. The contract officially goes through April 30th. If the season runs longer, you can keep your gear as long as the lifts are spinning.
Why buy when you can lease?
There are many benefits to a season lease:
Less expensive than buying for your growing children.
Can be much less than renting daily – depending upon how many times you use them per season!
No rental lines – it's yours to keep for the season!
You can exchange like equipment throughout the season, as your children grow, no extra charge!
Each package is completely customizable for every price point in between to fit your budget and needs.
You can exchange up for a higher level of equipment as your kids improve throughout the season – only pay the difference between the gear you are returning and the gear you are renting.
Come in before December 14th and

SAVE $50

on your season lease package.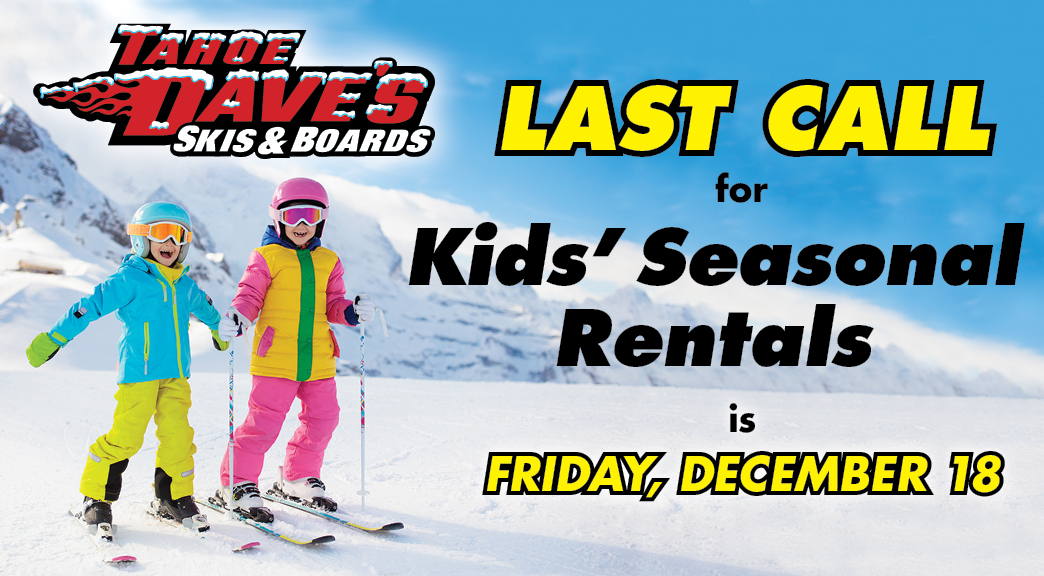 Due to high demand, Tahoe Dave's LAST CALL for 2020.21 Kids' Seasonal Rentals is December 18!
Some years we are able to accommodate into the Christmas Holiday, but this year we have run out of equipment!
Ski Packages start as low as $99.00*
Snowboard Packages start as low as $134.00*
          *after $50 early season discount given before December 14th
Includes SKIS, BOOTS & POLES

• up to 100cm starts at $99*

• 110cm-130cm starts at $114*

• 140cm and up starts at $129*

BOARD PACKAGE PRICES:


Includes BOARD, BINDINGS & BOOTS
• up to 115cm starts at $134*
• 116cm-132cm starts at $154*
• 133cm and up starts at $174*
PLEASE NOTE: All Kids' Seasonal Rentals MUST be done in person – we DO NOT accept kids' seasonal rentals over the phone, via email or online.
*Prices include basic equipment and are based on size and availability. Numerous upgrades are available!
*Prices shown are AFTER the $50 early season discount given before December 14th
*Kids' Seasonal Rentals are available in store only – they are not available for online registration or over the phone!
*Kids MUST be present for proper fitting!
LEARN MORE ABOUT THE COVID 100% GUARANTEE:
Come in before December 14th to not only receive your early season discount on your seasonal rental, but also be eligible for the Tahoe Dave's Kids' Seasonal Rental COVID Assurance Program. 
In the event of the Tahoe Basin Ski resorts not being open for at least 100 days for the 20/21 season (due to COVID 19 restrictions), you will receive a refund based on the proportion of days less than 100. For example, if the resorts are only open for 60 days for the upcoming season, you will get a refund for 40% of what you paid for the rental. 
Given the anticipation of capacity limitations in our shops this season, we are encouraging families to come in before the Christmas Holiday to be fitted for seasonal rentals. We may not have the time, or the space in our shops to offer this service during those few weeks. We won't know until the time comes. 
Gear rented after December 14th will not be eligible for the early season discount or the Assurance Program. 
Need more information?  We'd love to answer any of your questions!
Call us at (530) 583-6415 or e-mail info@tahoedaves.com!
Need help or have a general question about Tahoe Daves?