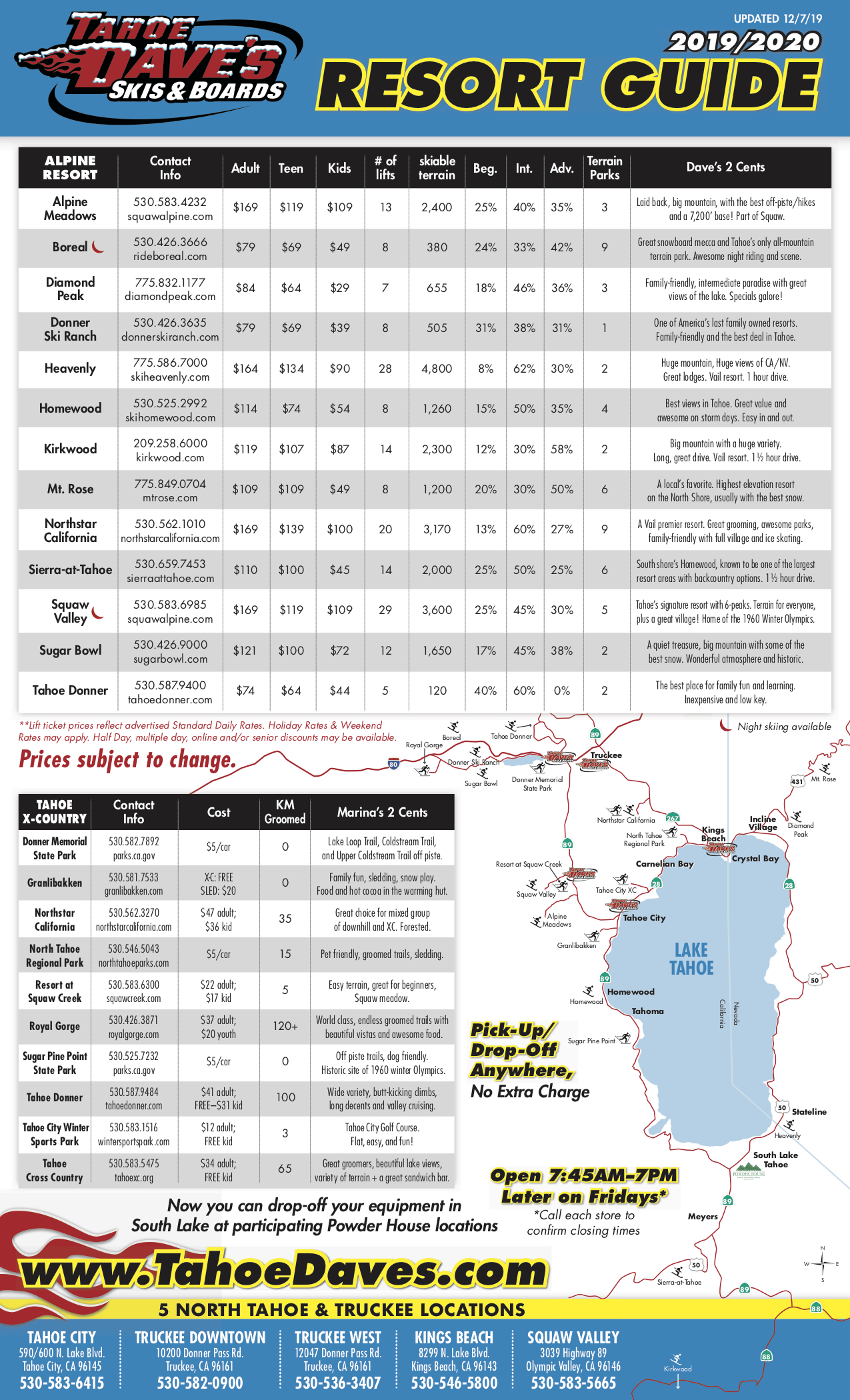 It's easy to call Lake Tahoe the last unforked pea on the plate of American snow riding. More and more Tahoe resorts might be mirroring the mainstream, painting a canvas of haves and haves more, but don't kid yourself: No other resort destination in North American encompasses itself with such a wide fraternity of world class slopes, abundant snowfall, pristine vistas and sparkling amenities. Moreover there are more chair lifts to ride in the Tahoe Basin than in the entire state of Colorado. Four out of five days are sunny. Winter temperatures average around 29 degrees. When it snows, which is often and usually early, the flakes fall thick and fast, piling into soft mounds on the upper portion of discolored mountain peaks that erupt from the lake to constitute the massive walls of a beautiful basin.
Connecting the dots to the 14 alpine resorts that surround Tahoe's high alpine lake is as easy as waxing the boards. Equally, Tahoe's mountain resorts are increasingly providing customers with a huge array of winter- vacation options, served up in a bundle as tightly and tidily wrapped as a tasty tri-tip burrito. All-time snow fall records were approached in 2010-11 with more than 700 inches of snow at many Lake Tahoe resorts. Get ready- The National Weather Service's Climate Prediction Center issued a La Niña watch for the 2011-12 season and the Old Farmer's Almanac calls for stormier-than-normal periods between November and December, with the heaviest in January.  Local's favorite runs.

Off-piste, wilderness skiing complimented by flawlessly groomed cruiser runs make Alpine Meadows a cradle of Sierra Nevada carving. Local friendly, folksy, and with a multitude of fall-lines, the increasingly popular 2000 acre, 13 chairlift resort offers views of cobalt colored Lake Tahoe from nearly every run. The resort is blessed with five lower lifts that immediately disperse skiers onto fall-line terrain. The Summit Chair is flagship of the fleet and accesses two-thirds of the mountain. From the top of Summit four distinct bowls descend either into wide trails or steep, off-piste drops.
What's new: 2011-2012 season Alpine Meadows combined operations with Squaw Valley and one ticket is good for both resorts. The resorts are connected by a shuttle bus.
Best Place: Advanced skiers test their mettle while attempting Keyhole. Descending its narrow corridor is as abrupt as dropping a quarter into a payphone. Lose it here and the rest of the ride is like a wave tank in physics class.
Don't Miss: Mid-day drinks at the Ice Bar at the bottom of Sherwood Chair. Soothing outdoor atmosphere is accompanied by music, munchies and discounted beer surrounded by overwhelming panorama of Ward Canyon.

Boreal's little outstretched paws are a welcome sight early in the season. In mythology, Boreas was the god of winter. He must have been a snowboarder. After 46 years of operation, Boreal has grown into a bastion for serious riders. Boreal's improved and redesigned terrain parks feature hits for all snowboarding levels. This season Boreal is offering a 22' Superpipe, a BagJump (when conditions permit) and a top-to-bottom night park.  Award winning park builder Matt Melilli has joined the crew this season bringing his unique style into the park for a fresh look in the 2011/12 season.  While Matt will be changing many things around the park, so of the old favorites will still stick around like the mini-pipe, quad jump line and boarder cross course on the Lost Dutchman. The resorts only problem is with overcrowding and grommet cockroaches. Riding here can be like getting into a cage with wild beasts and being mangled.
What's New: Woodward Tahoe, a year-round action sports training center, is set to open Summer 2012. Woodward Tahoe is a 33,000 square foot action sports center packed to the gills with fun features for ski, snowboard, bmx, skateboarding, cheer, gymnastics and more.
Best Place: 50'x50′ bag jump or an every changing rhythm section in Shred Park off Dutchman.
Don't Miss: Friday nights park sessions are a great way to start the weekend.

Incline Village received its name from the grade that was used to carry timber nearly 1,840 vertical feet during the 1800s. A century later, the same grade is being used to carry skiers up and down its slop after the Boise-Cascade corporation developed the golf course and ski resort now called Diamond Peak. A free ski shuttle runs from Crystal Bay through Incline to the resort. With stunning views of sylvan landscapes, affordable pricing, special programs for kids, and a variety of terrain, Diamond Peak is one of Tahoe's premier family resorts. The knock on this resort is its short runs. Skiing here is like shaving one's armpits and the itching won't stop. It lacks tempo for advanced riders.
What's New: Expanded terrain park on the Spillway. New Base Lodge.
Best Place: Scream down Lightning, a black diamond run comparable in steepness to Squaw Valley's Headwall.
Don't Miss: Dynamite views from the Snowflake Lodge reflect a twilight hour of Indian blue, water of glass, tree glistening and liquescent. Its relaxed sunny setting is perfect for playing tonsil hockey with a loved one.

Although undoubtedly the last of its kind, Donner Ski Ranch's simplicity, convenience, and affordable costs continue to beckon visitors. From the summit of its highest rise atop Signal Hill (7,851 feet) dramatic views descend toward Donner Lake, past the railroad snow sheds and the "Chinese Wall", a right-of-way foundation built by coolies in the latter 1800s for the trans-Sierra railroad. The small cachet of the Ranch's terrain surprisingly contains a balanced variety of steeps to rolling shoulders comprising a mighty little mountain. The area's five hundred acres plus are accessed by six chairs, the pride of the fleet being a fixes grip triple chair. There's plenty of raging at the Ranch for snowboarders. Riders have several terrain parks to choose from and a well-maintained half-pipe.
Best Place: Dodging all the snowboarders off Chair Three.
Don't Miss: Midweek Special Ticket Prices

The story of skiing at Granlibakken, which in Norwegian means "a hillside sheltered by fir trees," dates back to 1928 when the resort became one of Tahoe's first snowplay areas. In 1930 it built one of the country's best ski jumps and hosted the following two years the National and Olympic Trail Jumping Championships. Today, the historic jump looks over the ski hill and one poma surface lift that continues to evoke the old Tahoe charm and treasured memories. The ski area is a great choice for those who are learning to ski with their families and avoid crowds. Top off the day at the machine-groomed saucer snow play area.
What's New: A rental shop, ski school, warming hut and Ski Hut Snack Bar are also on the premises.
Don't miss: Access up the rope tow to backcountry trailheads.

Twenty squaw miles of terrain straddle the California-Nevada boarder, making Heavenly the land of alpine opportunity. Its rolling shoulders, long boulevards, and unobstructed views of Lake Tahoe create most of the pleasure. Wonderfully spaced trees on the Nevada side offer the best recreational tree skiing in the Basin, maybe in North America. Thanks to a multi-million dollar commitment made by Heavenly over the past two decades, the ski area now has the largest snowmaking system in North America blanketing almost 70% of the skiable trails. Alas, "adagio sonata pathetique" – its Bysantine lift dispersal system is sometimes like wearing a heavy garter belt. It can take you 45 minutes to get onto real fall-line terrain from the base area.
What's New: Heavenly added three new trails on the Nevada side of the mountain for intermediate and lower-intermediate skiers and snowboarders and trails have been widened on the California side. A new 2,200 square-foot ski school facility at the top of the Gondola will match the level of its Heavenly's world-class instructors. The next generation of Vail Resorts' popular ski and snowboard application, EpicMix will definitely change how guests take and share photos when it launches this season.
Don't Miss: Killebrews and Motts Canyons contain enough steeps to choke the most courageous. Kids can explore in the new adventure zone called Black Bear Hollow, a meandering, low angle skiing and riding trail with groomed whoop-de-doos, entry level progression park features small rails, gentle jumps and boxes designed to help youngsters explore.

Many winter enthusiast are discovering this West Shore sleeper that offers incredible beauty and hard to beat value. Homewood has eight lifts spread over 1,260 acres. Its lakeside location is both blessing and bane: It makes for the best views byt environmental concerns have hampered attempts to upgrade its Sixties-style facilities. As a result, the shoreline resort offers no high-speed chairlifts or polished amenities. But what Homewood lacks in luxury, it makes up for with some of the best storm powder skiing in the region. With 8,740-foot Ellis Peak to block the winds, Homewood's snow typically comes down loose and fluffy. The three terrain parks are testing grounds for grommets burgerflipping its radical wave hits, c-curves, and tabletops. Homewood's exceptional scenery makes one feel like you are about to ski into the lake, the resorts slow lifts can make a cold day feel colder.
What's New: Check out the Homewood Master Plan which, if approved, includes construction of a new North Base lodge, faster lifts, neighborhood retail, workforce housing, day skier parking, residential, and the Mid-Mountain lodge.
Best Place: The beefy steeps on Quail Face and the Hobbit Land sate thrill seeking appetites.
Don't Miss: Outer Limits off Quail Face on a powder day.

Far from the maddening crowd, Kirkwood's charm rests over 2,300 acres of horseshoe-shaped terrain that boast some of North America's toughest and tamest slopes. The mountain has always retained the air of adventure and been a favorite lair for hardboiled skiers from both north and south shores who are attracted to the resort's giant bowls, precipitous steeps and nostalgic atmosphere. Thanks to a base elevation of 7,800 feet, Kirkwood boats California's direst powder in the heart of winter. But it's ironic that for all the eye-popping pitches, and ragging pulchritude lurking within Kirkwood's intestines, the mountain is friendly to all, cradling the novice and purring to families. Some of the finest beginner terrain can be discovered in the Timer Creek learning area, rated by USA Today as one of the Top Ten Places to Learn to Ski. The bane of Kirkwood remains the 35 mile commute from the south shores of Lake Tahoe. Carson Pass is downright hairy and about as unsavory as a dog's breakfast on a snowy day. Driving over the pass is often better than getting snowed in at Kirkwood's base.
What's New: Kirkwood now provides private guides and backcountry awareness at its new $1 million Kirwood Outfitters facility. The Mountain Club Lodge has undergone a $5 million facelift and upgrades. Kirkwood has spent nearly $1 million this off-season to acquire three state of the art grooming machines that will be dedicated to additional high angle grooming. Take the kids to Thunder Mountain Snowmobiles – Tahoe's only kids snowmobile park.
Best Place: The chutes below The Sisters, or One Man and Two Man Chutes are reachable by following Larry's Lip off the Sunrise Chair.
Don't Miss: Thunder Saddle- The north facing area contains high level intermediate to expert runs that hold snow well for carving clean, short turns down adventuresome chutes.

Located just 22 miles from the bright casino lights and dirt-cheap lodging of Reno, a good time at Mt. Rose is never a gamble. While the resort's 1,200 acres and six lifts may not be at first glance as impressive as some nearby Tahoe Basin mega-resorts, Mt. Rose contains enough dandies and primal rushes to make for the most dolce of vitas. After all, this is where World Cup champion Tamara McKinney learned to carve turns with her brother Steve as youngsters. With a base elevation of 8,260 feet and northeastern facing slopes, Mt. Rose typically receives enough snowfall to bulge out over its terrain like thick hair under a baseball cap. There is, however, a drawback to Mt. Rose. In good weather, a trip from Reno to the lifts is a 25 minute drive up Highway 431, but if there's a hint of new snow it's best to either start early or stay home and play Twister with the dog.
What's New: Mt. Rose completed the lower section of the Silver Dollar snowmaking project in the Slide Bowl to allow early season access to that side. New Winters Creek Lodge adjacent to the Zephyr Chair.
Best Place: The steep runs under the Northwest Magnum 6 detachable drop 1,400 vertical feet and contain nasty lines to slap the hardest of chargers upside the head. Gold Run's 55% gradient qualifies it as one of North America's steepest steeps.
Don't Miss: No other resort at Tahoe offers as many Daily Specials such as Bonus Mondays ($49 lift tickets), Two-fer Tuesdays (2 lift tickets for the price of 1), Ladies Day Thursdays ($49 lift ticket, clinic & retail discount), TGIF pack ($69 lift ticket and $10 food credit), $138 Family Packs (2 lift tickets for adults and lift tickets for ages 17 and under) and multi-day tickets.

Call Northstar California the Charles Atlas of Sierra Nevada ski resorts. Its modest mountain used to have a clear niche: attracting families and teaching them how to ski. Sand got kicked in the face with it's nickname "Flatstar." Hip locals never set an advanced ski boot on it slopes. During the past 2 decades, however, the now Vail Resorts owned area spent more than 45 million in on-slope improvements. The resort has beefed up its 95 trails and 3,000 skiable acres with a healthy tonic of steeps, chutes, cruisers and bumps which dwell alongside the manicured boulevards tilted just enough for ego boosting turns. Check out the new terrain on Lookout and the backside. The Burton Academy offers idiot-proof snowboarding lessons. Northstar is know for its 7 terrain parks designed by Snow Park Technologies (SPT). In November 2010, the Ritz Carlton Highlands opened half way up the slopes and has its own gondola to the base village. Northstar's success has created it's own drawbacks. The traffic exiting the Village after a long day on the mountain can be overwhelming. Best to wait it out with a beverage in the village.
What's New: The 2011-2012 season will see $30 million in improvements in the form of a new 500 seat Zephyr Lodge, new detachable quad Promised Land Express Chair on the Backside of the mountain, and the construction of a new 22-foot halfpipe that will be designed by Shaun White, who now calls Northstar his home mountain and primary training resort. Try snow cat accessed skiing on Sawtooth Ridge.
Best Place: Ripping down Lookout Mountain gives the impression of skiing a wilderness preserve. It's advanced runs offer a panoply of rowdy lines that compliment the thigh burning, straight liners of the Backside Express Quad.
Don't Miss: Snowboard lessons at the Burton Academy or moon-lit snow shoe hikes to a campfire with acoustic guitar and hot cocoa.

Like a woman who wears too much make-up, at first glance, Sierra-at-Tahoe has an air of slightly suspicious polish. Are the riding surfaces too user-friendly? Is the day's experience too predicable? No, Sierra is la vraie chose, genuine down to the last coifed slope. Better carving surfaces make for better carvers. Much of the 2,000 acre resort's appeal relies on it's meticulous grooming of modest fall-line faces free of traffic and immutable homey atmosphere. When the wind howls atop nearby Echo summit, Sierra's front side of old growth perfectly spaced trees off the Grand View Express become catcher's mitts for fastballs or powdery snow and welcomed dumping grounds where blowing winds are often quieted to rusting bough and the muffled whoomps of skier's tracks. Riders can enjoy "The Gauntlet, " one of the terrain parks containing table tops, gap jumps and more (confirm). If you're not into attitude beware of the 300-foot half pipe. (still there?) It attracts a sometimes young a salient crowd. If Sierra-at-Tahoe has any drawbacks, it a desperate lack of on-site lodging convenience. Although there are more than 22,000 beds available (confirm) 12 miles away at South Shore the ride can become downright hairy when storming.
What's New: Thrill-seeking expert skiers and boarders will now be able to access the backcountry with the addition of the Huckleberry Canyon Cat tours. Sierra Resort's new Burton Riglet Park is a mini-snowboard park designed to introduce kids as young as three to snowboarding.
Best Place: Avalanche Bowl is a powder playground with face shots o'plenty.
Don't Miss: The all-new Blizzard Mountain, a snow play and tubing area features two rope tow-accessible tubing lanes, an expanded snow play area, a bounce house, snack bar, fire pits, picnic tables and sledding.

While Soda's 200 acres qualifies it as only a nugget-sized resort by today's standards, its pitchy terrain and an emphasis on families have transformed the resort's small-are reputation to that of a skier's mountain that also has great value. Cheek by jowl to adjacent Sugar Bowl's Mount Lincoln, Soda's ridgeline commands view of Lake Van Norden and the spine of the Northern Sierra. The small, but enchanting resort once entertained the glitz and glamour of the 1930s San Francisco society. Now known more as a snowtubing showpiece, the two-lift, 15 run hillside offers a variety of tubing flumes day and night.
What's New: Planet Kids with two moving carpets and a mini-tubing area for the youngest skiers and riders. Mini-snowmobiles for kids too.

Lake an ageless vixen, Sugar Bowl keeps getting facelifts. The Grand Dame of Sierra ski resorts sweetened its slopes with 5 new high speed quads and now boasts 13 lifts, the most recent being a high-speed detachable quad up Mount Lincoln. The chairlift's summit location increased the vertical drop for intermediates dropping off it's long ridgeline into mellow pitches, or adrenaline junkies linking high-speed turns down the Silver Belt, a pre-World cup race course that still hosts some of the greatest racers. Rarely does history, ambiance and pure animal challenge converge so tidily as at Sugar Bowl. Hip, singular and with the self-contained feel of a remote mountain retreat, encyclopedic is an adjective often used to describe its mountain. Founded in 1939 by Austrian downhill champion Hannes Schroll, the skiing at Sugar Bowl feels big and it is. With Donner Summit's high elevation, Sugar Bowl invariable gets the coldest, driest, and most abundant snow around – over 500 inches some years. When Pacific coast low-pressure systems rampage throughout the Sierra it can snow for days, even weeks. Sugar's biggest problem is it little vertical makes for a valise without straps.
Best Place: The 058 makes the sphincter get small and the eyes grow big.
Don't Miss: Soft, thigh high and fleecy freshies off Strawberry Fields on a powder day.

It variety is the spice of life, then Squaw Valley may be the ultimate skier and snowboarder's smorgasbord. Appetites are satisfied with jaw-dropping scenery, on-mountain eateries, museums, tubing, and ice skating. Off-slope, Squaw's base area offers climbing walls, shopping, music, Nordic touring, snow-shoeing and a bevy of bars and restaurants. Oh, there's skiing too.
Squaw is big, as in "penis libre." Site of the 1960 Winter Olympics, the resort's gargantuan geography makes first-time visitors feel as though they're looking thought the wrong end of a telescope. Carved from six peaks spread over 4,000 acres and served by 30 lifts, the resort has always sung hosannas for the wild at heart. Its sloped remain a monument to free skiing adrenaline junkies attracted to the area's hair raising chutes, intense steeps, and gnarly rock faces, some the size of small office buildings. This place is so cool it could heal warts.
Squaw's lift system is arguably the most advanced in the world. Containing North American's only Funitel and largest aerial cable car, three six-passenger detachables, and numerous detachable quads, seldom does anyone wait in a lift line.
If there is a glaring drawback to this Olympic feast, its "Les voies urinaires" – Gaper wannabees who whine and shed bad poseur vibes waiting in line for KT-22 to open on a powder day. Second place goes to the ironically oxymoron Squaw Valley motto of all time " We Care."
What's New: In addition to partnering with Alpine Meadows, Squaw Valley USA recently embarked on a 5 year, $50 million "Renaissance." Upgrades includes new restaurants, 10 new grooming machines, bringing Snow Park Technologies in for the terrain parks, new trail names and mountain maps. Future improvements will be upgrades to the Granite Chief, Links and High Camp lifts and increased lodging options.
Best Place: If there is a predominant geological statement to Squaw Valley that immediately captures the eye it's the Palisades above the Siberia Chair lift. These upper rock cliffs of over 9,000 feet elevation remain a monument to pinwheeling freakhuckers. Straight-lining its steeps and sweat-induced plunges is a forbidding thigh-burner. Lose it here and the result will make you feel like the Tin Man after a good thrashing by the flying monkeys.
Don't Miss: Wild shots and sweat-induced plunges are discovered off the Granite Chief Chairlift, just past Shirley Lake.

Tahoe Donner's uncrowded, friendly atmosphere is the perfect place for family fun and learning. The small, Truckee-based, 4 lift resort puts an emphasis on teaching nebies to ski and board. Tahoe Donner also has terrain parks from beginner to advanced. The mottos is, "Tahoe Donner- the best place to begin."