TAHOE DAVE'S SKIS & BOARDS IS A PROUD SPONSOR OF
WARREN MILLER'S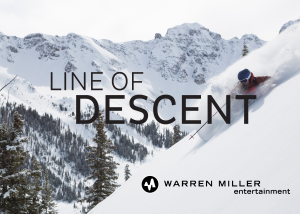 TWO SHOWS!
Friday, November 24, 2017 at 7:30 PM
&
Saturday, November 25, 2017 at 7:30 PM
•••
Tickets available for advance purchase at any Tahoe Dave's Skis & Boards location
or
BUY TICKETS ONLINE!
•••
WHERE:
Olympic Village Lodge
1901 Chamonix Place
Olympic Village Lodge/Squaw Valley Conference Center
Olympic Valley, CA 96146
•••
Don't miss Warren Miller's newest premier ski & snowboard film "Line of Descent", presented by Volkswagen. Travel the globe, by land, air, and sea, exploring the ties that bind us. Visit skiing icons like Tommy Moe, Kalen Thorien, Collin Collins, Lexi duPont, Marcus Caston, Seth Wescott and more who have made the mountains their home and raised the next generation of winter adventurers. Go from New Zealand, home to some of the Southern Hemisphere's deepest lines, to the French Alps, where native son Jean Claude Killy's legacy fills Val-D'Isere hearts with pride. In Norway, a Canadian ski patroller enjoys the company of his Norwegian brethren, and in British Columbia, the Provo brothers discover the powsurfing stashes of Mustang Powder Lodge. Cruise through the Northern Rockies with Kalen Thorien and rip the rugged terrain of Jackson Hole with legends like Tommy Moe and Jess McMillan. For 68 years, ski families have cheered on the official kickoff to winter with the ski film company that started it all and this year is no different. As the family grows, the traditions grow richer in Volkswagen presents Warren Miller's Line of Descent. Deeper and fresher than ever.