Safe Summer Boating Tips!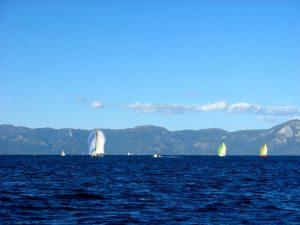 Lake Tahoe is one of the most beautiful places in the world, and boating on Lake Tahoe is one of the best summer activities to engage in.  The crystal blue alpine lake waters surrounded by a natural amphitheater of perfect snow capped mountains, under a cloudless sky makes it a superb destination for any water sports enthusiast.  But before you hop on your motorboat, personal watercraft, sailboat, kayak, canoe, or paddle board it is important to familiarize yourself with Lake Tahoe's safe boating laws and environmental regulations.
Although Lake Tahoe is a fairly large body of water, it is home to a high volume of boats during the summer months; which creates a lot of traffic in certain areas of the lake.  And a lot of boat traffic can be very dangerous especially during crowded weekends.  One of the first things to brush up on is practicing driving your boat trailer in cramped areas.  Public boat ramps can be crowded and stressful, especially when you are trying to maneuver between numerous people, cars, and other boats on trailers.  You can make this experience less painful by knowing how your trailer tows and practicing patience at the ramp.  Another boat anti-anxiety tip is having your vessel registered with proper stickers on either side of the bows hull before you head to the ramp.  Both motorized boats and sailboats need to pay an annual fee at the boat ramp or the marina for a mandatory invasive species inspection, including Quagga and Zebra Mussels.  Also, all motorized boats need to get a Blue Boating certification sticker to put on their hull to let inspection stations know that have already paid the required fee.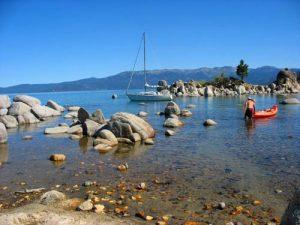 Another mandatory safety precaution is having enough PFDs (Personal Flotation Devices) for every person on board your boat.  Children should wear PFDs at all times while the boat is in the water and as long as there are enough for
all the adults on board, you should be ok if you happen to be stopped by the Coast Guard.  PFD's are especially important around Lake Tahoe because of the extremely cold alpine lake water.  If a person were to fall overboard without you knowing it, without a PFD, they could develop hyperthermia, which becomes a life-threatening situation very quickly.  PFD's also helps keep the person above water, and are very brightly colored, which allows other drivers to spot them in the water much easier. Being a responsible boater includes taking many different factors into consideration during your day on the lake. Everyone wants to have a good time, but the goal is to let loose and still maintain control of the vessel.  If you get caught driving a motorboat drunk it counts as a DUI and you lose your drivers license.  But even if you don't get stopped by the Coast Guard driving a motor boat drunk, it is hazard not only to you and every everyone else on board, but to everyone else on the water.  So please use your head and practice good boating sense.
So before you anxiously hop on your boat and speed away into the crystal blue waters, stop and make sure that you have taken the appropriate environmental and safety steps to prepare you and your family/friends to embark on a safe and fun day on one of the most gorgeous places our world has to offer!
If you have any more questions about preparing your boat for the summer season check out these helpful websites!

Written by Hilary Scheer
Photos by Jess Eastman