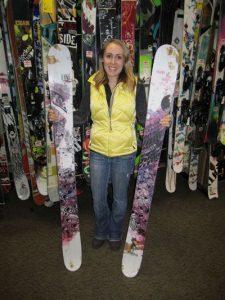 Natalia Roberts LOVES the LINE PANDORA!

"It's PURPLE…haha… and it's actually awesome.  This all mountain ski is made for everyday Tahoe conditions.  With its' wood core and 115mm waist, the Pandora makes skiing the whole mountain effortless! Whether it's powder, groomers, or anything in between…this ski is the most fun and playful ski out there … and you can keep up with the guys…somewhat!"   🙂
Visit Natalia at our Tahoe City Ski Shop to find out what else she LOVES!
Call us at 530.583.6415 for more information on renting or buying these skis.