Tahoe Dave's High Altitude Health Tips        
Summer is HERE and it's time to start thinking about hiking, biking, swimming, boating, floating and MORE!  Why not get the most out of your vactation by making sure you're treating your body right in higher altitudes?  Lake Tahoe can be breathtaking – sometimes literally!  The clean mountain air offers a pure and refreshing environment to relax with your family or friends, but the decrease in oxygen may make you more tired in the first few hours until you adjust.
To get the most out of your stay, we offer some suggestions: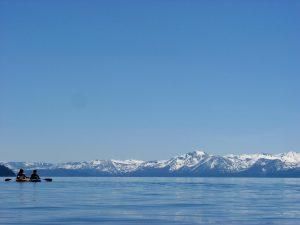 1. Drink water – The air at altitude is so dry that every breath you take dehydrates you.  Remember to drink water throughout the day and go easy on the caffeinated and alcoholic beverages.  Our Tip: Start the day with a sports drink to help minimize cramps.

2.

Apply Sunblock

– Living at high altitude even for a weekend places you closer to the sun with less atmosphere to protect you.  Remember to use sunblock even on a cloudy day.  Our Tip: Choose a product with at least an SPF 15 and with both UVA/UVB protection.

3. Wear Sunglasses – A good pair of sunnies not only makes a great fashion accessory but they will also protect your eyes from harmful UV rays, reduce glare, protect your eyes from wind, dust and debris, reduce headache and eyestrain, and will improve your vision.  Our Tip: Purchase a pair of polarized sunglasses (from Tahoe Dave's great selection) because not only do they offer more protection from the glare, but they will also help you see into the depths of Lake Tahoe!
4. Get in Shape Before you Arrive – You can protect your body by working out regularly for a few weeks before you take a mountain trip.   Don't overdo it in the first day or two you are here, give your body time to adjust.  Our Tip: A few weeks of Aerobic or Yoga Classes will help get your body where it needs to be. 
5. Dress Appropriately – Summers in Tahoe have warm days and cold nights.  Make sure you pay attention to the weather and bring the right layers with you on your activity.  Our Tip: Start with a "wicking" or breathable layer next to your body, such as polypro or a lycra – it moves the body's sweat away from the skin keeping you dryer.  Also, make sure you don't wear cotton because it absorbs the moisture and doesn't breathe.
Altitude treats everyone differently, so we remind our visitors to listen to their bodies and rest when needed. If you do not feel well, sit down and relax under a shady tree or take a dip in the lake.  Remember, it's your trip.  Lake Tahoe vacations expose you to spectacular scenery in the great outdoors, so if that's leaving you breathless, it's not necessarily a bad thing!