Disc Golfing in Lake Tahoe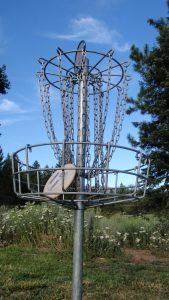 While the snow melts and the summer season approaches, many locals and visitors find themselves in search of low-budget outdoor activities.  So until the rocks thaw and the lake water warms, Disc Golf is one great way to get outdoors, be active, and enjoy the fresh mountain air.  Often free of costs, (aside from acquiring a few specialized discs), Disc Golf is a sport that can be played by anyone, regardless of your age or skill level. The sport is played similar to traditional golf, yet instead of swinging your club at a ball towards a hole, you are using your arm to throw a disc towards an elevated basket.  They share the same goal: getting the object into the target in the fewest attempts possible.  One must start from a tee area and then make their way down the fairway making each consecutive shot from where it had previously landed.  With stunning forests, changing elevations and rocky terrain, Lake Tahoe provides some of the finest and most challenging disc golf courses in the World!  For more information and to purchase discs please visit your local sports shop today!
Hey Bud!  Did you know that Tahoe Dave's sells Discraft Discs?  Come check out our awesome selection in our Tahoe City Board Shop or you can call us for more information, 530.583.0400!

Here is a list of courses to choose from located along the North Shore and around Lake Tahoe:
Lake of the Sky, Tahoe Vista – Tucked into the forest hillsides of the North Tahoe Regional Park in Tahoe Vista, this 18 hole course will not disappoint.   The quickly changing rocky terrain makes for a challenging course.  Known for quality equipment and upkeep, the small $3 parking fee for non-residents of the NTPUD is well worth it.  Follow hwy 28 west from Kings Beach, right on National Ave. and follow the signs to the Regional Park.
Squaw Valley Disc Golf Course – Created in 2010, Squaw's 18-hole course includes 3 beginner holes at High Camp and 15 'extreme' holes where you'll wind down Shirley Canyon & the Solitude chairlift, and then you'll wind back up.  Holes 1, 2, & 18 are considered 'beginner' holes, while the remaining holes (and hike) are advanced. Plan to spend about 3.5 hours playing the advanced course.  Park in the village and players can pay to take the iconic tram ride up to High Camp or you can take the long hike uphill for free.  http://www.squaw.com/disc-golf

Truckee Regional Park – Running along the Truckee River, the Regional Park course is undergoing many improvements!  From concrete tees to flowerbeds, the course is recommended in spring because of its beautiful Daffodil
blooms.  Located across the street from 7-11 off hwy. 267, just before downtown Truckee.  Free parking in the Regional Park lot.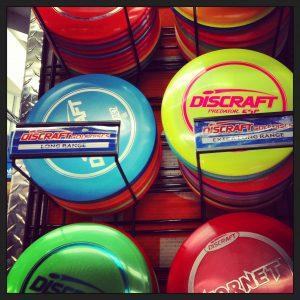 Incline Village Disc Golf Course – Also known as the North Tahoe Lions Club Disc Golf Course, was created in 2011, making it North Lake Tahoe's newest edition!  This course features 18 holes in a beautiful, fairly flat mountain setting.  The course is located within Incline Park, adjacent to the Incline Tennis Center (but please don't park there)!  Parking is available at the Recreation Center located at 980 Incline Way.  The 1st hole is located on the west side of the Recreation Center entrance road.http://cdn.tahoemountainsports.com/images/bg_main3.jpg); background-position: 0% 0%; background-repeat: no-repeat no-repeat;">
Zephyr Cove – Filled with elevation changes, this course also features fabulous views of Lake Tahoe.   Covered in low laying Manzanita bushes, this course is a good way to soak up the sun, but wear those shorts at your own risk!  Zephyr Cove Park is just of hwy 50 on Warrior Way.
Bijou Disc Golf Course – You'll never get bored on this beautiful 27 hole course with it's often changing basket/target placement.  Play as many or as few holes as you wish, great for families and pros alike.  Very little slope and lots of tress!  Free parking and public facilities.  The park is at the corner of Johnson Blvd. in South Lake Tahoe with an entrance off of Al Tahoe Blvd.
Kirkwood Mountain Resort – A beautiful course and a hike all in one.  Testament to its challenge is its fourteen hundred foot 16th hole!  It has a short June to October season, but opens just in time to catch the wildflower bloom.  To get to this 18 hole course jump on hwy 50 towards Meyers, turn left on hwy. 89, right on hwy. 88 and follow the signs to Kirkwood.  Free parking and access.

Now get out there, get a disc, grab your friends and try out disc golfing!  Enjoy your new sporting adventure and be sure to bring sunscreen, snacks, and plenty of beverages!  Always be sure to "leave no trace" and throw away all your trash.
For more information regarding basic rules and terminology please visit the Professional Disc Golf Association at www.PDGA.com.